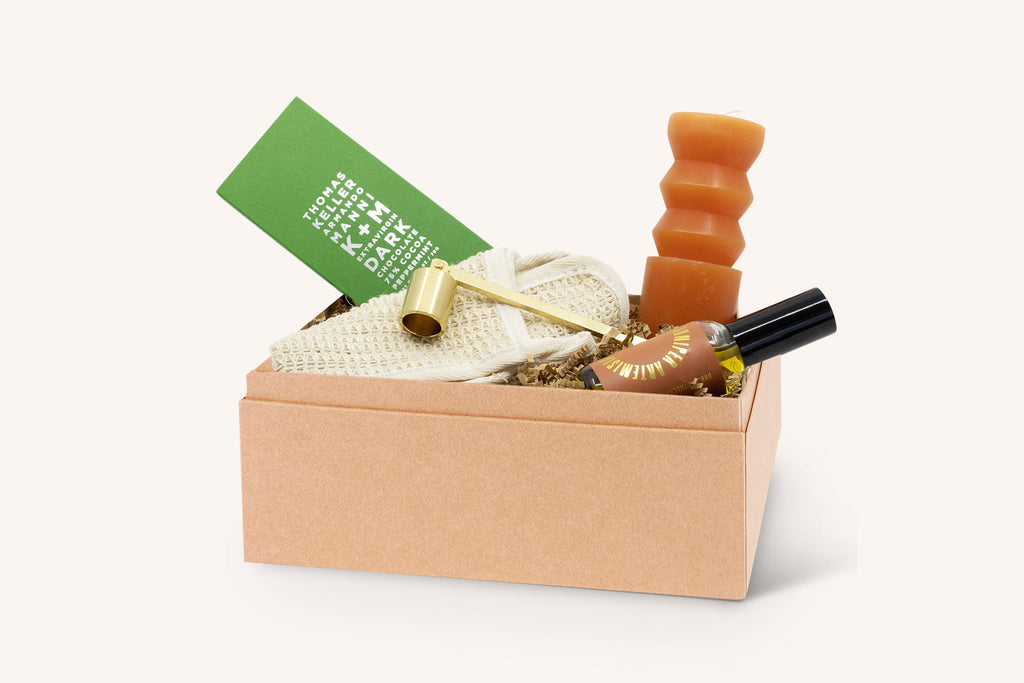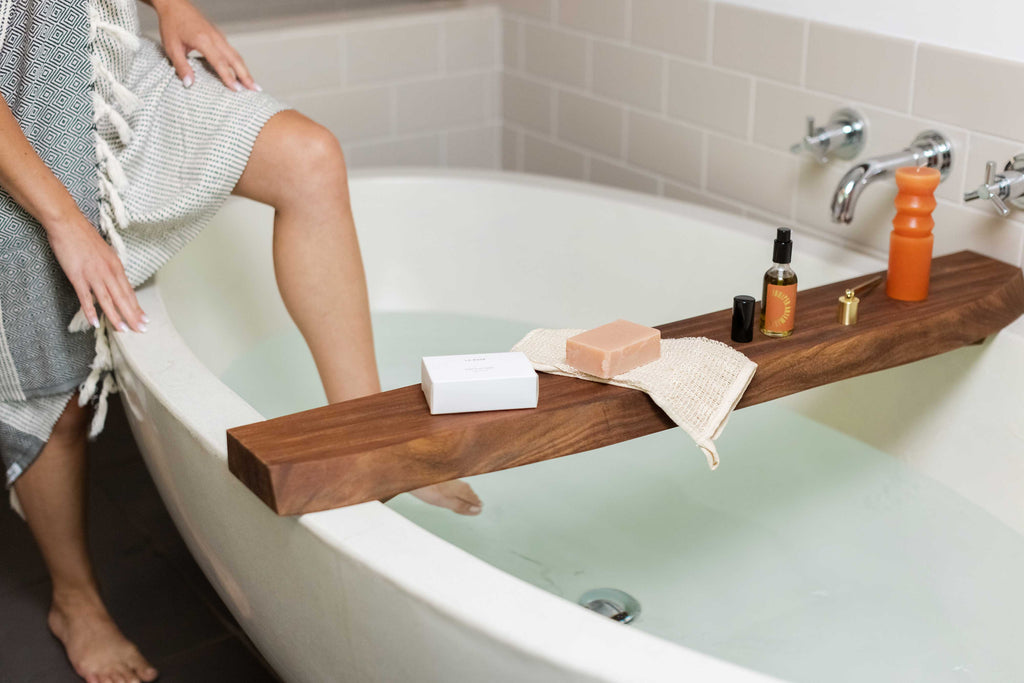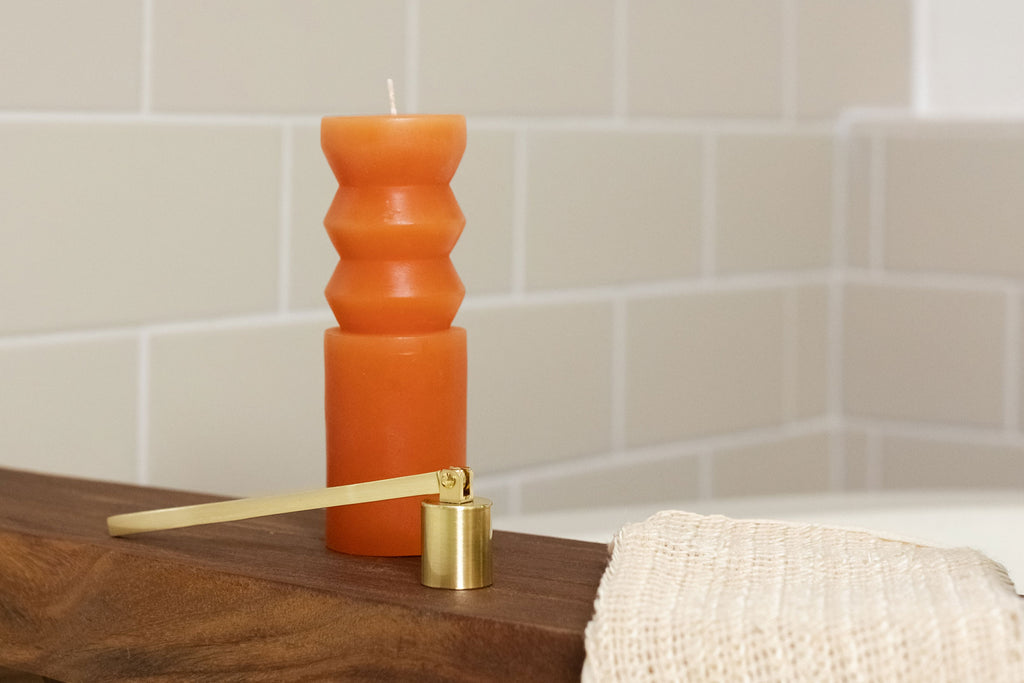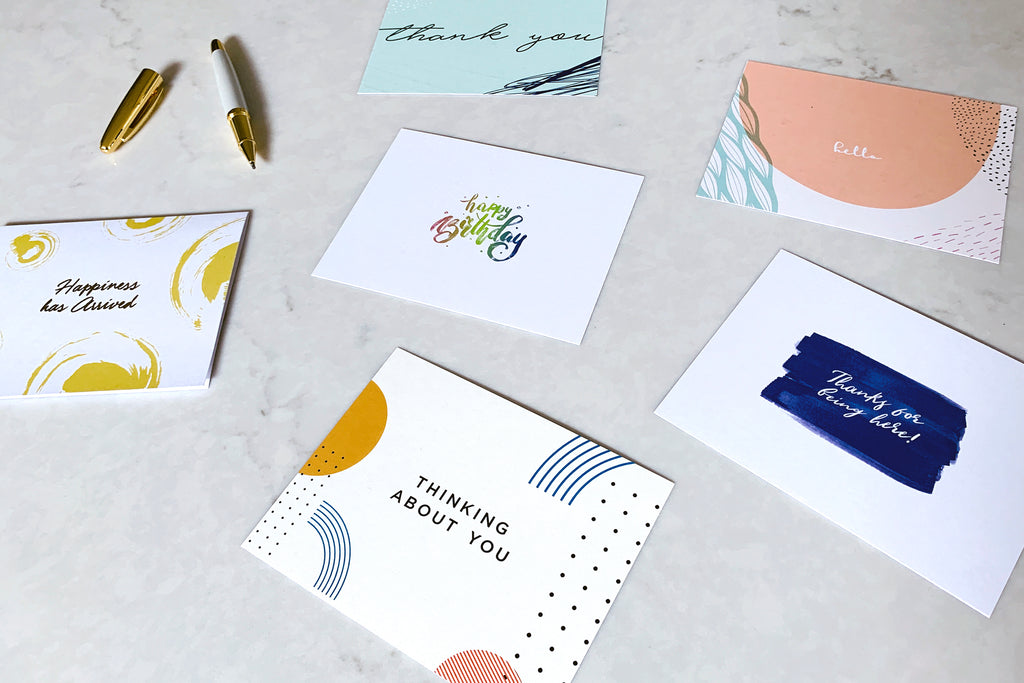 Blissful Bath
$105.00
$0.00
Our spa gift box is exactly what you need for some pampering! This thoughtfully curated gift set includes a bamboo exfoliating washcloth that's gentle on the skin, a heavenly scented rose oil that will leave you feeling relaxed and rejuvenated, and a decorative candle with a matching snuffer to create a relaxing atmosphere. But that's not all - we also included a decadent olive oil chocolate bar to indulge any sweet tooth. This gift box is perfect for anyone who needs a little self-care. So why wait? Order our bath gift box today and give them the gift of relaxation and comfort they deserve!
Gift comes with reuse-able, sustainable, rigid gift box (shown in photos).
WANT A BRANDED GIFT BOX?
Looking for personalized and branding packaging with a note card that shows off your company? You're only a click away! Reach out to place your order now. Minimums apply.
WHAT'S INSIDE
Natural Agave Washcloth is made from the Agave plant and is amazing for gently exfoliating skin. 
Nourish and repair your dry, cracked, red skin with this herbal infused body oil, Juniper Artemisia, that was inspired by our aromatic memories of growing up in the rolling foothills, forested lands, and river ravines of California. The scent is smokey wood, bright herbs and grasses, and grounding forest floor and leather. 
The K+M Extravirgin Dark Chocolate Peppermint combines the intensely rich flavors of our Ecuadorian single-estate dark chocolate with the refreshing flavor of natural peppermint essential oil. Peppermint | Tropical Fruit | Refreshing | Smooth Net wt. 2.5 oz / 70 g
The Totem Candle is cast in unscented paraffin wax from forms originally created by turning beeswax on a lathe. Each candle is like a small sculpture, elevating it from an everyday pillar candle into a special object. Approximate burn time is 25 hours depending on the size of the candle. Do not leave burning candle unattended. 100% Paraffin wax
ABOUT THE PRODUCT/VENDORS
The Nash and Jones line began out of necessity. Because of consumers negative reactions to products filled with chemicals, dyes, perfumes and preservatives, this product line offers only clean ingredients which lead to products that nourish our skin. The products are rooted in the amazing benefits of organic oils, butters and beeswax.
Urb Apothecary began with a vision for skincare products that reflect the needs and desires to connect with simple chemical-free ingredients. Leyna, the founder, only uses the highest quality organic ingredients in every Urb Apothecary product. Each one reflects her good intentions and a deep-rooted fascination with the healing power of herbs and plants.
As the first and only American-born chef to hold multiple three-star ratings from the prestigious Michelin Guide, Thomas Keller has established a reputation for excellence unparalleled in American cuisine. In Tuscany, Armando Manni has forged a similar reputation for quality by producing super-antioxidant, extra-virgin olive oil. Together, they have spent the past five years on a unique mission with K+M Chocolate: crafting a chocolate from the bean unlike any we have seen before. 
Areaware creates objects and gifts for home, work, and play in collaboration with independent designers. Based in Brooklyn, NY and Columbus, OH their small team is dedicated to creating functional and uplifting objects, designed with integrity. Above all else, our designers are at the heart of what they do.
SHIPPING DETAILS
Box Size: 12.25x9x4.25
Order Processing: Please allow 2-3 days before shipment is sent out. Please allow enough time for packages to arrive on time for your special day.
Gift comes with reuse-able, sustainable, rigid gift box (shown in photos).