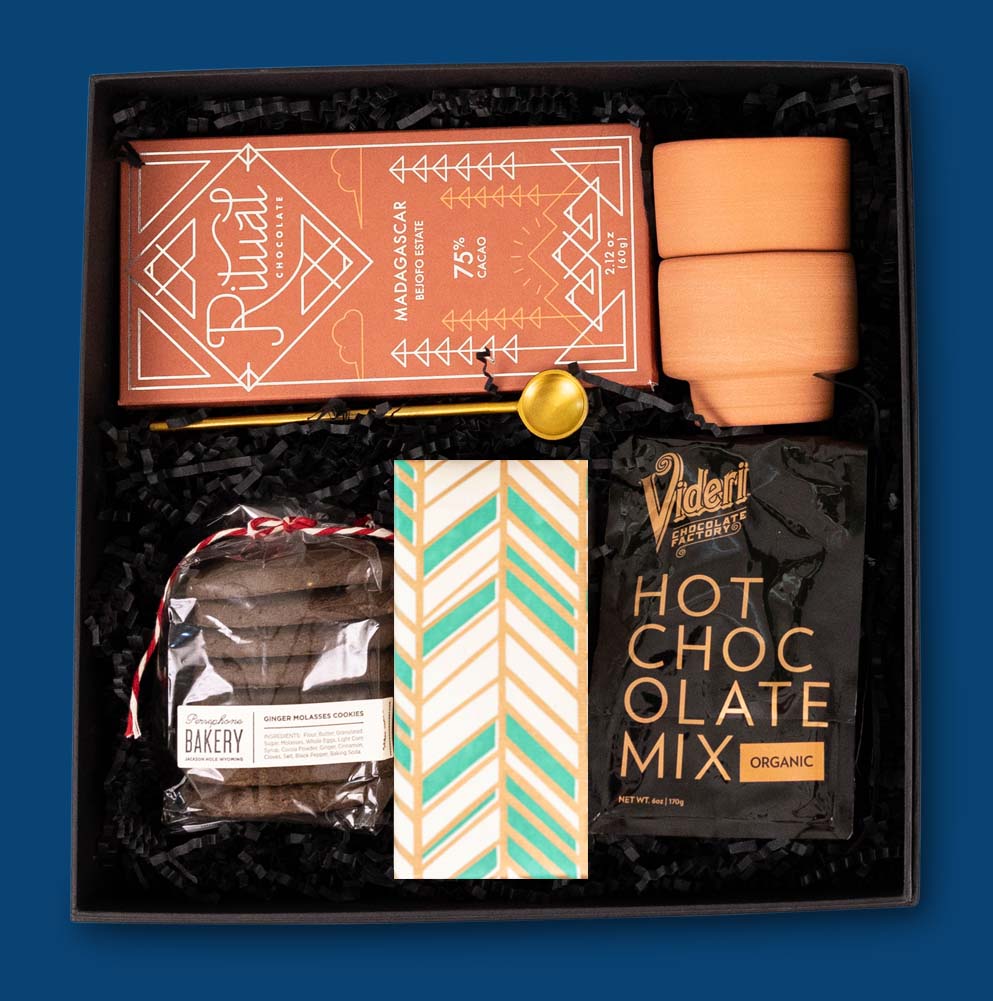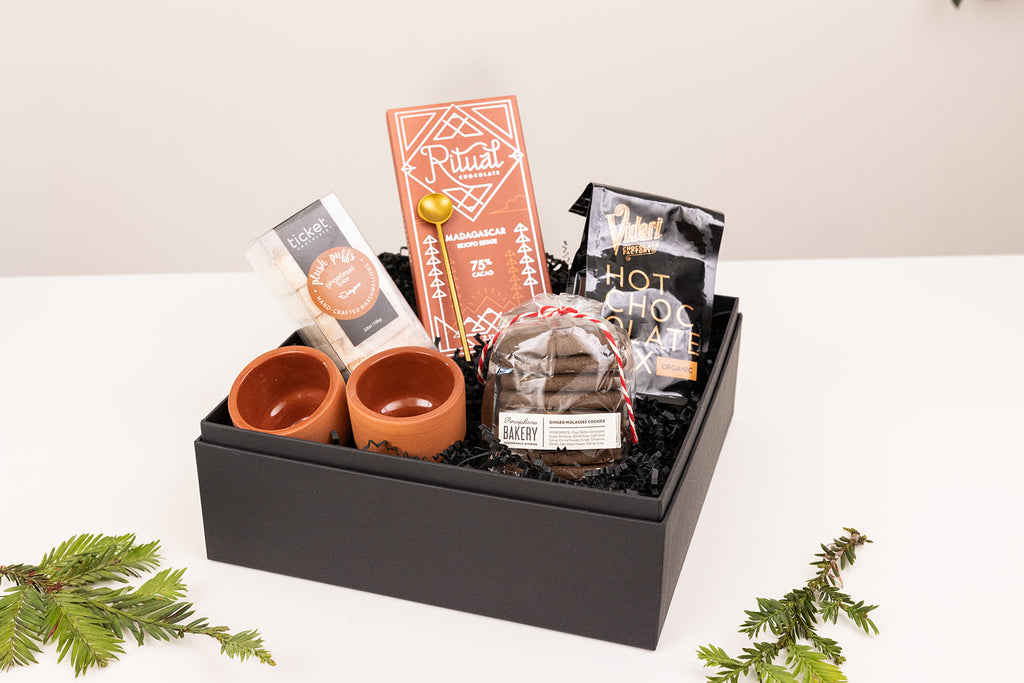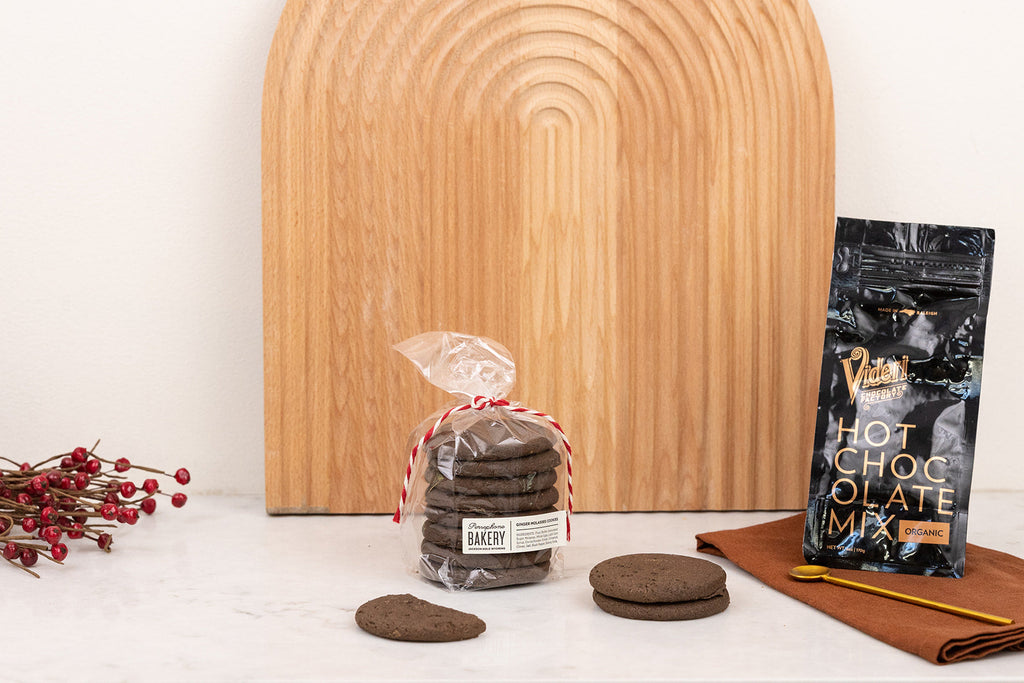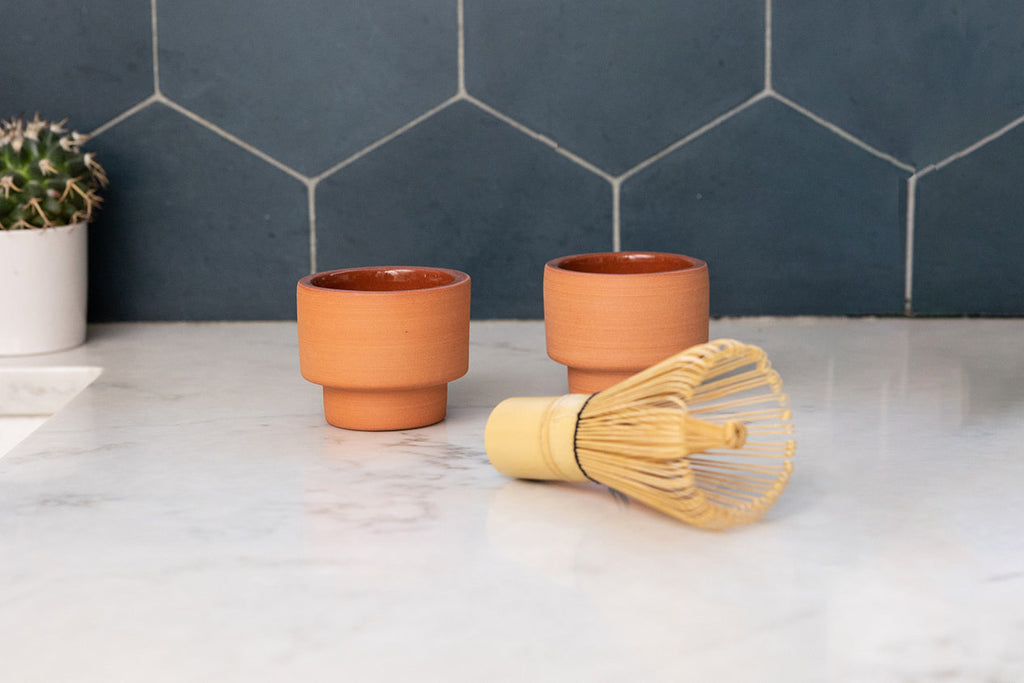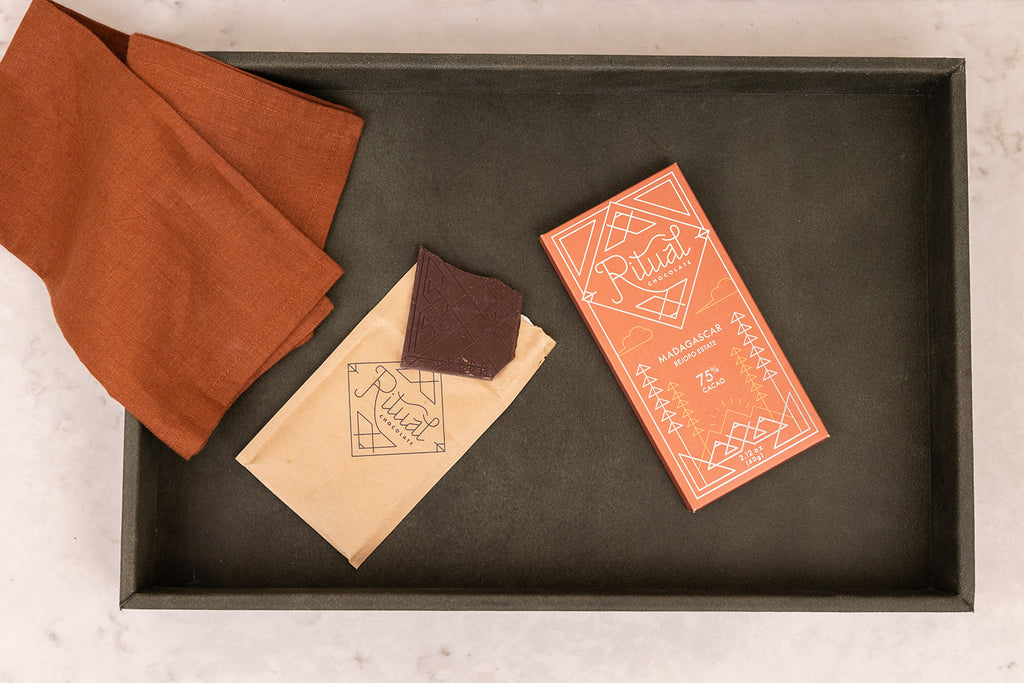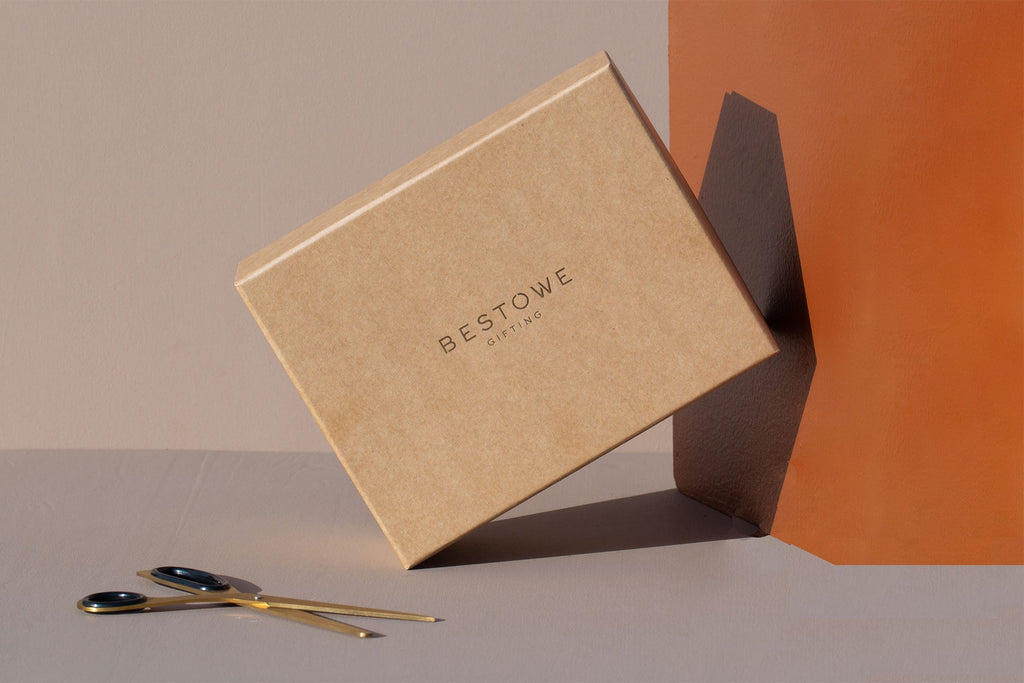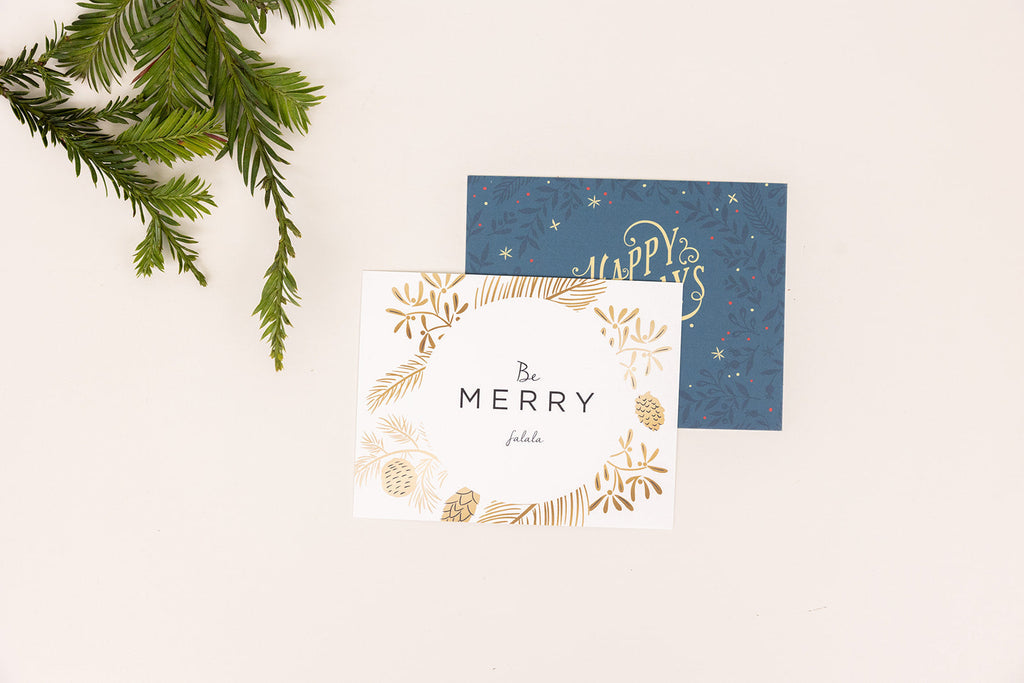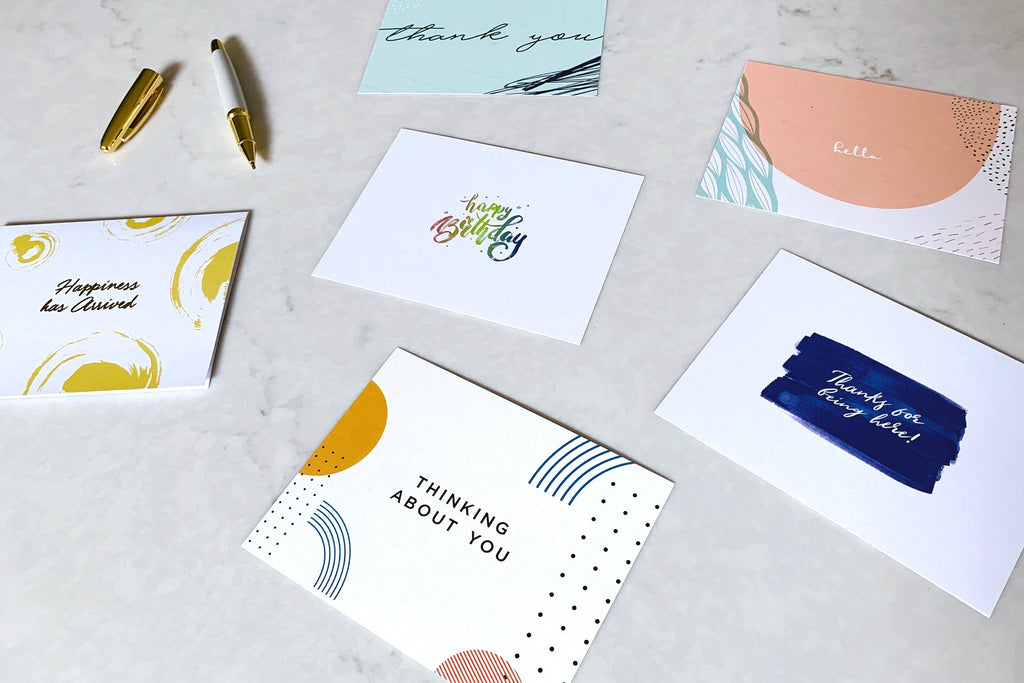 Give Me S'More
$145.00
$0.00
For kids, parents, kids at heart, or chocolate lovers, this gift box is your gourmet version of hot chocolate in a box! It starts with 2 beautiful Artisan handmade ceramic tumblers. We also have included artisanal gingerbread Marshmallows, Chocolate, and Ginger Molasses cookies can turn it into your very own s'mores kit by the fire. We've paired this hot chocolate with some beautiful Artisan handmade ceramic terracotta tumblers. Give it as a co-worker gift, a gift to enjoy s'mores by the fire, or a chocolate lovers birthday present. It will not disappoint.
Gift comes with reuse-able, sustainable, rigid gift box (shown in photos).
WANT THIS GIFT BOX BRANDED?
Looking for personalized and branding packaging with a note card that shows off your company? You're only a click away! Reach out to place your order now. Minimums apply.
WHAT'S INSIDE
Ticket Gourmet Marshmallows - 3.8 oz retail package containing 5 2"x2"x1" marshmallows. Pairs well with our hot chocolate! Only real ingredients, nothing artificial, always gluten-free and no corn syrup, ever! Shelf Life: 6 months
Quality & Care: This piece is dishwasher safe and withstands daily use beautifully with just a few stipulations — it should not be placed over direct heat, heated to over 300 degrees, or shocked from one temperature to another.
Persephone's Ginger Molasses Cookies are gingerbread with a kick. Full of flavor from lots of dark molasses and ginger, these little treats finish with a hint of black pepper. 8 cookies per package. Made by Persephone Bakery in Jackson Hole, Wyoming Ingredients: flour, butter, sugar, molasses, eggs, corn syrup, cocoa powder, baking soda, spices Best consumed within 3 months.
This Hot Chocolate mix is made with only the finest ingredients. Videri shaved their 70% Classic Dark chocolate down for easy melting and added a little cane sugar for the perfect cup of hot (or cold!) chocolate. Mix it with a bit of milk or cream and cozy up to the fire.
The "gateway chocolate" for non-believers. Unbelievably fruity and nutty thanks to unique terroir. Ritual Chocolate is made with organic cacao from Bertil Akesson's farm in the Sambirano Valley in Northern Madagascar. The region is known for producing cacao rich with notes of citrus. Tasting Notes: Raspberry, Citrus & Peanut. May contain traces of peanuts, tree nuts & wheat.

ABOUT THE PRODUCT/VENDORS
Geometry At Ticket Chocolate, they believe that life's best moments are often the simplest, which is the approach we take with our chocolate. They use only the finest couverture chocolate and other ingredients, carefully handcrafting every one of their chocolates in our Northern California kitchens to create confections that are worth lingering over.
Founded in 2014 by Sarah Sauer, Guten Co. is a San Antonio, TX based ceramics studio. Guten Co. focuses on producing ceramic pieces that hit the satisfying mark where function shines through frank, clarified design. The brand is known for distinctive shapes in a limited color palette - every Guten Co. piece is made by hand in the San Antonio studio.
We live as we bake and we bake as we live that's their motto: With heart, hard work and creativity Persephone has found like-minds in the mountains, kindred spirits who care about food and design, nature and art. They draw inspiration from the deep well of talent in the Tetons, their team of loyal local employees, and the creativity of those who helped us realize their vision. Started as a bakery and well loved local tradition, Peresophone epitomizes your community spirit.
Videri Chocolate Factory was started by a group of friendly folks who wanted to create wonderful chocolate, from bean to bar, every day. They're a cozy chocolate factory that scrupulously sources every ingredient to ensure a high quality, responsible chocolate. 
Ritual started in 2010 in the Rocky Mountains of Colorado, eventually settling in the mountain town of Park City Utah, and traveling the world in search of the best cacao. They fell in love with chocolate—not just the eating part, but the history of and the beautiful stories of small chocolatiers around Europe that would live above their chocolate shops and devote their lives to creating and perfecting their craft. There is something about chocolate that grips people and inspires them. They desperately wanted to be a part of this world and share what we discovered.
SHIPPING DETAILS
Box Size: 12.25x9x4.25
Order Processing: Please allow 2-3 days before shipment is sent out. Please allow enough time for packages to arrive on time for your special day.
Gift comes with reuse-able, sustainable, rigid gift box (shown in photos).